Wireless Web Broadcasting
The SportsCAST module allows organizations to wirelessly broadcast live events to anyone, anywhere. It works with the MediaCAST platform, and broadcasts to any device with internet access. Grandparents and parents unable to travel can watch their student graduate in real time. Distance learning students can experience special events and speakers live. Access to broadcasts can be restricted to internal users or made available to everyone in the community.
SportsCAST comes with everything you need to begin broadcasting, right out of the case. Hardware includes a shoulder mount kit, a mobile power kit, a Mini-Encoder HD and an accessory kit. The Mini-Encoder is a small, extremely low-power video encoder that supports both wireless 802.11x and wired Ethernet connections. It uses H.264 High Profile Level 4.1 compression and provides Blu-ray video quality. SportsCAST can also work with
Media Appliances
installed locally, for on-demand viewing.
SportsCAST Hardware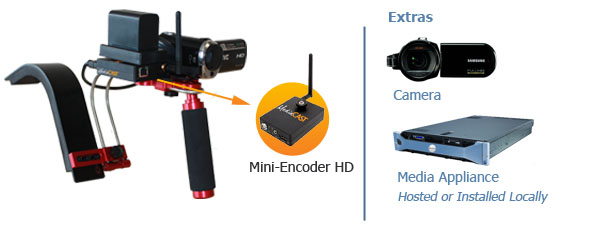 BENEFITS
Broadcast & record live graduations, games, concerts, plays & award ceremonies
Connect distance learning students, parents and the community to institution events. They can watch their student play, perform and graduate live or view events on-demand. Fans at home can view away games from their TVs and computers.

Enhance your journalism & media programs
Journalism, video production, and PR students can experience 'in the field' broadcasting and get experience with live feeds. Access files on-demand for review and evaluation.